Techinomics Rotating Throat Features
Increase coal throughput
Improve coal stream fineness
Improve Primary Classification
Lower NOx in your pulverizer - increase Lo-NOx burner efficiency
Extend SCR catalyst life
Reduce boiler slagging
Extend periods between Overhauls
Reduce pre-combustion mercury
Installs in as little as 3 shifts
Techinomics Removes Mercury & Arsenic
Independent side by side testing at a
Southeastern US coal plant demonstrates
Techinomics'
unmatched
ability to remove
Mercury-Arsenic-Lead-Antimony
PRE-COMBUSTION
See Report Here
The Techinomics Rotating Throat-Ledge Cover System features patented ledge cover and inlet vane design that provides unique and unmatched performance in several key areas. The throat design incorporates a venturi effect and converging-diverging nozzle which converts pressure to velocity, returning more over-sized coal particles back to the working zone for additional re-grinding without blowing the pyretic rock back or clogging the ports. The Techinomics design allows for a superior primary classification process. The pyretic rock, which even in pre-washed bituminous coal contains significant concentrations of Mercury is removed from the coal stream at an un-matched rate. The vane design coupled with the throats high-pressure drop system allows us to increase velocity without increasing primary air flow mass.
Less primary air mass in the pulverizer means less oxygen available to form NOx.
Less NOx in the system means more efficient Low NOx burner operation and extended life for your SCR catalyst.
Because we produce a finer, more combustion efficient coal stream, with significantly reduced pyretic rock content, there is less rock available to cause boiler back pass erosion. Less maintenance cost- longer intervals between overhauls.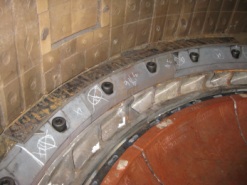 Techinomics Installation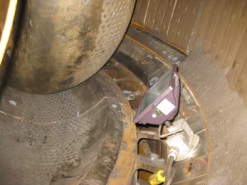 Techinomics throats with wear resistant roll wheel and grinding table
Designed for Efficiency
Techinomics patented Throat-Ledge Cover is the only fully rotating throat that rotates the ledge cover with the throat.


This means the whole working wall facing the fluidized bed of coal rotates with and at the same speed as the throat. Less wear, superior materials on every Techinomics rotating throat
Customers have reported restoring lost coal pipe balance after installing and adjusting Techinomics Rotating Throat-Ledge Cover.
A reduction in fly ash LOI is a normal consequence of the improved fineness and pyretic rock removal with Techinomics Rotating Throats.